Notice: Machine only ship by sea, before place order first contact supplier
Tube filling and sealing machine
filling sealing machine
tube filling machine
USe for aluminum and plastic laminated tube
Features: The tube filling and sealing tailmachine is made of stainless steel.
The process is button-controlled. After manual-tube-feeding, 8 tube-position rotates
continuously for quantity filling, auto cut-off, heating sealing and tube ejecting. The
whole process is pneumatic-controlled. It is easy to adjust filling quantity and speed.
The machine is suitable for various size of plastic tube for filling, sealing, and date print.
It is featured with performance.
Tube filling and sealing machine
filling sealing machine
tube filling machine
Optional: heating and mixing hopper
Technical parameters:
Voltage: 220V 50Hz /110V,60HZ
Filling Capacity: 20-30 (with / min)
Tube diameter:10-50mm
Tube length:20-260mm
Quantity Error: <2%
covers the qualified rate: 98%
Weight: 300kg
Compressed Air: pressure0.6-0.8 (Mpa)
Air Consumption: <30 (dm3/min)
Fills Speed: 50ml, 100ml, 200ml
Dimension: 1230mm*700mm*1400mm
Tube filling and sealing machine
filling sealing machine
tube filling machine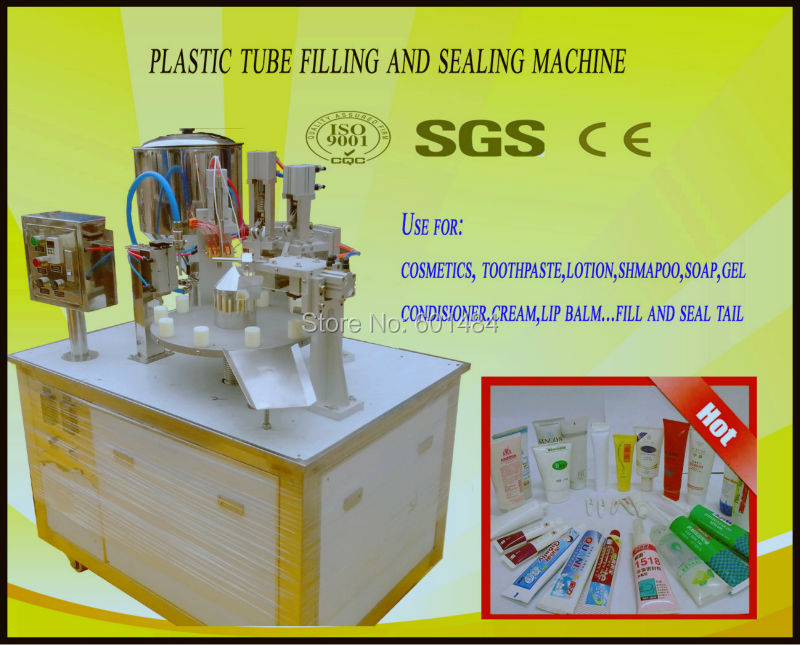 Tube filling and sealing machine
filling sealing machine
tube filling machine